Exams and X-Rays for Kids
Dental Service in Vancouver WA
Pediatric Dentistry in Vancouver, WA
When Should You Take Your Kid for Their First Dental Check Up?
When should you take a child for their first dental check up with a Childrens dentist?  Should you seek a pediatric dentist or a dentist that is kid friendly? Should you wait until all the teeth appear? Or should you wait until your child complains about their teeth? If you have been asking yourself questions like these, we have an answer for you. According to experts and leading dentists, your child's first visit to the dentist should be when teeth first appear.
What Are the Benefits of a Child's First Dental Visit?
First, your child's initial visit to the dentist should be an introduction to the dentist and the office environment, which helps build trust as they grow older. You will need to assess if you feel the dentist is "kid friendly" and if the office has an appropriate play space for your little one.  Second, the child's first dental exam will help the dentist detect and fix dental problems early. Lastly, the child's first dental visit should help parents learn how to establish hygienic environments and routines at home.
Worried that your child will be terrified when you take them to the dentist? Well, here are some time-tested tips to alleviate your child's fear or anxiety on their first visit to the dentist.
Choose A Friendly Dentist Who Uses Kid-Friendly Technologies
The first thing you need to do is choose a reliable child friendly dentist who office is set up to accommodate children and their needs. A dentist who deals with children knows how to conduct kids' dental exams and how to do things in a gentle manner. They also know how to incorporate play in their procedure, which helps children relax and be more confident.
Dental offices that cater to children also have an array of toys in the waiting room and attractive distractions, which help alleviate fear or anxiety associated with your toddler's dental exam visit. Also, make sure the dentist has kid-friendly tools and technologies such as x-rays for kids.
Searching for a Dentist for Your Child?
If you are searching for a children's dentist in Vancouver WA you are on the right track.
Dr. Lisa Newkirk is a very special dentist that loves kids.  She has great patients and has a fun way of helping your child feel comfortable and safe. Her practice is set up to make children of all ages feel at ease in her care.
Ask the following questions:
How did you hear about the dentist?

Did your child like the dentist?

What kind of tools do they use?

Do they have x-rays for kids?

If there were any issues, were they handled with professionalism?

Would you visit the dentist again?
If you have been wondering when is the right time to take your child to the dentist, you now have an answer. Take your kid to the dentist as soon as the first tooth comes in. This will help to establish a proper oral care routine that can last a lifetime.
Are you looking for a pediatric dentist in Vancouver WA? If so, you should look no further than Island Family Dental. Contact us right away and we will be happy to answer any questions you have about dental exams and x-rays for your child.
Our Mission & Vision
At Island Family Dentistry, our goal is to create beautiful smiles that will last a lifetime.
Dr. Lisa Newkirk launched Island Family Dental with the goal of providing comprehensive dental care for families. Over the years, Dr. Newkirk has been selected as the dentist of choice by hundreds of Vancouver residents. We believe that providing personalized, compassionate dentistry services along with excellent results helps ensure that you enjoy your trips to the dentist.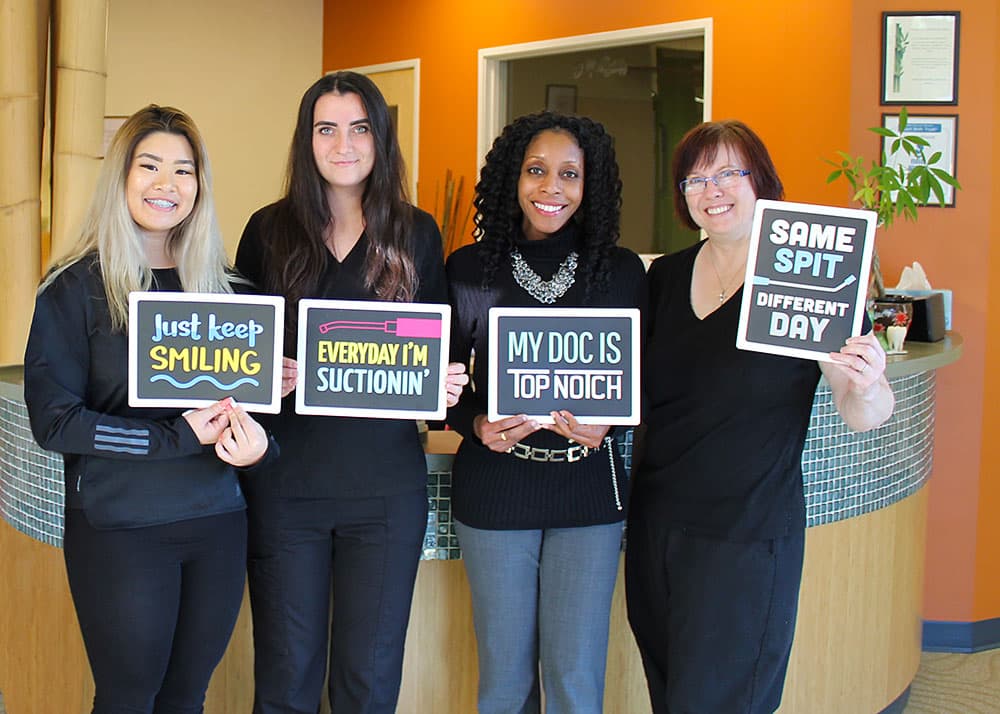 Six Signs You Should Schedule a Dental Visit Most people know that you should see a dentist for a cleaning roughly every six months, just like people know they should come in for a visit if they're experiencing pain in their mouths or bleed when brushing. But those...
read more